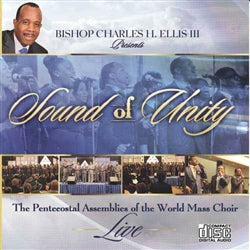 "Sound of Unity", a live CD recorded in 2013 at the 98th Annual P.A.W. Summer Convention in Indianapolis was unveiled for the first time at the 99th Annual Summer Convention in Detroit.
The CD, with a limited-edition cover, features gospel recording artists Byron Cage, Eric Dawkins, the Pentecostal Ambassadors, Jonathan Nelson, and Jason Nelson; as well as the P.A.W. Mass Choir and Suffragan Bishop Leonard Scott. All are products of P.A.W. churches.
The project's Executive Producer is Bishop Charles H. Ellis III. The producer is Jonathan Nelson.
SPECIAL PRICING ALERT:
Quantities of 10 or greater are available for $10 each (plus shipping and handling). Please call Lisa Golder at P.A.W. Headquarters at (317) 547-9541 to place your order at this special priceTODAY!