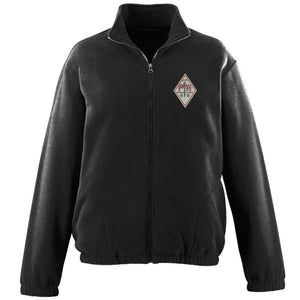 • 100% polyester chill fleece
• Pill-free
• Ultra-soft
• Center front zipper
• Set-in sleeves
• Front pockets
• Elastic cuff
My favorite jacket.
I've never been much for name brand clothing, because I don't like wearing their logo, advertising for free. Well, NOW I have a crest/logo that I love to wear! It's a conversation starter, that allows me an open door, to witness. Once they ask, "what is that logo", the rest comes naturally. Please make other clothing with this logo on it! Make polo shirts but make the logo smaller on those. Bible covers, notebooks, belt buckles, PAW Bibles with the logo. So many options!
Poorly crafted
The pockets are TOO far back and actually hard to reach into.
Black embroidered fleece
Enjoy wearing when I need something warm as often .