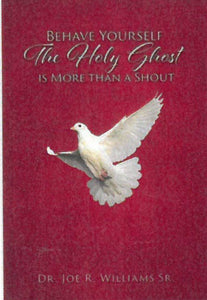 In Behave Yourself The Holy Ghost Is More Than A Jump And Shout, Dr. Joe c. Williams, Sr. shares the value of walking in obedience through the Holy ghost as you navigate the world around you.  You'll discover practical teaching to learn how you can conquer the desires of your flesh and begin to truly live in the Spirit.  By making your flesh behave, your actions will be pleasing in God's eyes, and you will witness the joy and blessing that comes from a life rooted in obedience to the Lord.
Behave Yourself: The Holy Ghost is more than a Jump and a Shout
This is a remarkable book. I encourage everyone to purchase this book. The author let's know that the Holy Ghost we have is more than a jump and a shout, it is God Spirit living down inside of us. The Holy Ghost will help us control our flesh, be obedient, treat others right, and live right ourself. Again, this book is a must and it will bless your soul.